Our employees represent our company.
The interplay between performance and commitment, as well as the contribution of our employees' own ideas, characterise the sustainable success of our company.
Join our dynamic and innovative team and discover the many advantages of a medium-sized company offering many personal freedom and creative possibilities. Grow along with us.
We like the idea of your joining our mission! We promote an open and nice business environment that allows our employees to achieve their individual goals and maximise their potential.  Personnel development is of paramount importance to us. The mix of demand and encouragement teamed with a creative, dynamic working atmosphere maximises your potential and guarantees shared success.
What's in it for you?
Working in a dynamic and motivated team, you'll be facing versatile challenges with responsibilities. You would like to prove your competence in an ever growing, internationally successful company? Then, we look forward to meeting you!
Full time
Training
Full time in Herten
Tasks
Manufacturing of measurement and test technology components and devices
Commissioning and maintenance of systems and devices
Assistance of technicians & engineers, analysing the requirements on new devices and designing systems and software solutions
Performing calculations and determining the features of the device components (e.g. sensors, actuators, diodes, transistors and switching components).
Soldering, construction of mechanical and electromechanical components
Software adjustments
Performing control and adjustment measurements using special devices
Customer service activities: malfunction analysis, determination of causes and troubleshooting
Qualifications
Subject-related university entrance qualification
Vocational diploma
Full time in Herten
Tasks
Organisation and processing of office tasks in the areas of order processing, procurement, accounting, marketing and personnel management
Preparation of business letters, protocols, reports, settlements, presentations and statistics
Planning, coordination and monitoring of appointments
Accepting telephone calls, checking the incoming mail and welcoming visitors
Qualifications
Subject-related university entrance qualification
Vocational diploma
Trainee
Undergraduate assistant and intern (m/f)
Job profile
Friendly appearance
Having fun working with people
English skills are of advantage
Nature of employment
Nature and period of employment upon agreement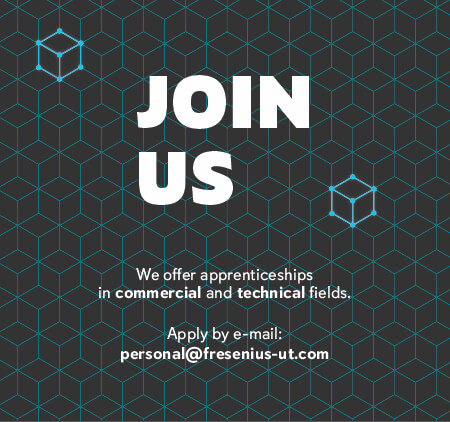 Did we spark your interest?
If so, please don't hesitate to email us your application indicating your expected salary and earliest possible starting date:
We prefer PDF documents.
Ms. Viktoria Zwetzich
Doncaster-Platz 5
45699 Herten, Germany
Phone +49 2366 93961-10
Fresenius Umwelttechnik GmbH
Human Resources
Doncaster-Platz 5
45699 Herten, Germany